Ernst Mosch - his private life

Ernst Mosch's outstanding success story is well-known. Since more than 40 years there has grown a worldwide boom for his distinctive brass style. He earned award after award with his unique feeling for the right title, his precise arrangements and recordings. All around the world Ernst Mosch filled concert halls to overflowing and he became one of the greatest icons of national and international music business. Wherever he toured tickets were sold out and the audience was enchanted. After all, he sold records in 42 countries.

| | |
| --- | --- |
| He preferred "perfect performance without idle talk". But despite of the astonishing success Ernst Mosch always remained modest and very much of a family man. Customary extravaganza didn't suit Egerland's most famous musician. He was pleased with a beautiful house near Kaufbeuren, Germany, a well-established enterprise, an antique Mercedes Benz - this was his secluded world, where he could relax with his wife, his three daughters, and his grandchildren. "It's the only place, where there will be no media-fuss" he said. "An essential condition if someone wants to work seriously". | |
Therefore, even his work was neatly arranged. He had a straight spotless career, he hold on to his Bohemian brass music regardless of Rock 'n' roll, Neue-Deutsche-Welle or disco fever. After World War II, however, Ernst Mosch first got into Jazz and Swing. "I loved and still do love American Big-Band-Music. My greatest idols were Tommy Dorsey, Stan Kenton, and, of course, trombonist Bill Harris. Good Lord! Not only played he the trombone, he talked through it. That's why I was more than happy to be engaged by Erwin Lehn's Big Band at the Suddeutscher Rundfunk. When we played the Jazz, it was sheer delight", that's what he kept telling.
Ernst Mosch's wild passion for music and his relentless pursuit of perfection made him tremble internally. He never acted romanticizing or sentimental. He never appeared in any campaign, not even at the Sudeten Germans'. "I am as apolitical as my songs. For me it is only good music that counts." An ideal world? "There is nothing better than an ideal world" he once said and he deeply meant it.

While reaching for the stars his feet were nevertheless firmly grounded. Not the in-crowd but his club of pigeon-breeders was interesting him. He earned merely as much prizes and awards with his carrier pigeons than he did with his band.
| | |
| --- | --- |
| | His short spare time he spent with his family, playing tennis with his granddaughter Julia. After the match he used to enjoy a simple refreshment: a glass of sparkling water, his favorite drink besides Coke and Kaba, a typical German chocolate beverage. |


He savored the long walks with his boxer dog, he went fishing for recreation and took part in the quiet life of his hometown Germaringen. Here, in the beautiful landscape of the Allgau Alps he gathered strength for his stressful life on stage. He never loosend the reins or thought about calling it quits. It was Ernst Mosch's personal conviction that "a musician won't draw the final line. Another will have the last say ..."

Ernst Mosch passed away on May 15, 1999.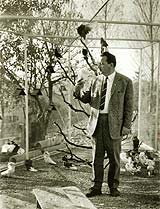 Ernst Mosch with his "Fancy Pigeons" (1965)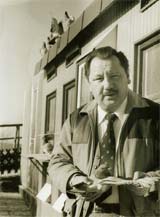 1975: Ernst Mosch with one of his award-winning carrier-pigeons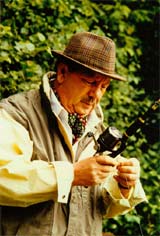 Another hobby: Fishing 1991